This weeks challenge from the
Diva
is to use a sting that has been contributed to the tangle patterns
web site
. The string chosen was #4 by Sue Agnew and it looks like this: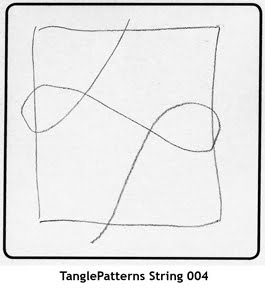 For some reason I didn't connect with this string. It's not the strings fault but, things happen that way sometimes. My first tile looks like this:
'Nzeppel, Munchin
I did not really like the results but, I do keep every tile. I wanted to try something organic and did a quick sketch in my daily sketch book. The string is turned on it's side and does not follow it closely.
I think I am ready for a new week of challenges and contests!
Poke Root, Skein, Leaf, Black Pearlz